Hardscape Services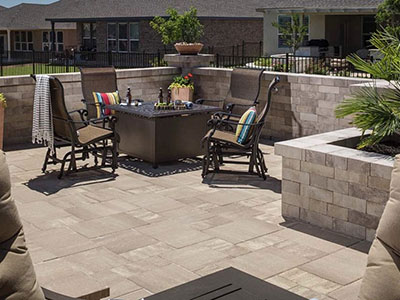 We at Stone Deck are a leading company in the hardscaping space. Over the last 20 years, we have been instrumental in creating stunning outdoor spaces on properties in and around Austin.

We have the creativity, skill, and knowledge required to design and install beautiful hardscaping elements that blend in perfectly with the design aesthetic of your landscape. We focus on customization and high quality, and our clients know they will get unique and attractive landscaping elements at cost-effective pricing. The different features that we can design and install for you include:


Permeable Pavers
Many homeowners want to make sure that their landscapes are eco-friendly. It means they want to install features that improve the energy efficiency and water efficiency of the property. One excellent way to do this is to get permeable pavers installed. These features have porous surfaces that allow water to seep into the ground underneath. This water replenishes the water table and helps to support the environment. Permeable paver installation is a specialized job, and we have vast expertise with handling projects, including patio, deck, driveway construction, and more. We use the latest techniques in our work and the best materials, so you have resilient features. Read More About Permeable Pavers »


Pool Decks
A pool deck needs to be planned perfectly and installed systematically. The deck areas may also have elements like water and fire features, sitting walls, and more. We make sure that these installations are designed and built to last. We also ensure that suitable quality materials are used and that expert technicians handle the installation. We create unique patio deck plans and layouts and can even add water walls and fire features as required. Our company makes sure these outdoor structures are stunning in every way and that they blend in seamlessly with the rest of the elements in your landscape. Read More About Pool Decks »


Driveways
We are a full-service hardscaping company that provides excellent paver driveway design and installation solutions. You can choose from products such as natural stone, concrete, or brick paver units. These are available in a variety of sizes, shapes, styles and colors and textures. Our driveway designers make sure that the style and layout of the feature are perfect for the available space. We have seasoned paver installers on our team that make sure the installation is completed to industry standards. Attention to detail helps ensure that your driveway is stable and long-lasting and that it adds to the value of your property. Read More About Driveways »


Patios
A patio is a lovely addition to your yard and, when planned correctly, can provide an excellent return on investment and increase the value of your property. We custom design paver patios and can use various materials in the construction. These features experience significant wear, and using pavers is one way to ensure they are resilient and durable. Patio pavers come in various styles, and you can choose from materials like concrete, natural stone, and brick. Our hardscape designers are skilled and experienced and create unique patio designs and plans. We make sure that your paver patio is stunning in every way. Read More About Patios »


Walkways
Walkways are convenient and essential features in a landscape, and we are the experts that can design and construct paver walkways in different styles. These installations will be planned perfectly and installed using high-grade paver units. You can choose from stone, brick, or concrete pavers in various shapes, sizes, styles, and colors. Our expertise lies in creating stunning walkways that are unique in appearance, resilient, long-lasting, and very easy to maintain as well. We also make sure that the walkways complement the style and design of your driveway, patio deck, or other hardscaping features in your residential landscape. Read More About Walkways »


Concrete Pavers
Whether new or restored, concrete pavers may be an appealing and cost-effective alternative for the outdoor area of a residence or business structure. Concrete pavers can be used for roads and parking lots and decks, patios, poolscapes, and even rooftop gardens. Additionally, you can use them for walkways, entryways, porches, courtyards, pathways, and fire feature zones. Concrete pavers are an attractive, low-maintenance, and easy-to-install option. There are several paving stone alternatives available in terms of shapes, patterns, and styles, and we are here to assist you in selecting products that suit your objectives and fit within your budget. We use only high-quality products that provide lasting value. We use only the best materials and installation methods for high-quality, aesthetically pleasing, and durable outdoor spaces on residential and commercial properties. Our company provides efficient and cost-effective concrete paving services, so you get outdoor areas that bring your ideas to life. Read More About Concrete Pavers »


Retaining Walls & Steps
If you have soil erosion issues on your property or the land has excessive slopes, retaining walls are the right features to install. These specially-engineered walls are stable and robust and add to the integrity of the landscape. In the case of terraced landscapes, you may need garden steps to navigate various areas. We design and build retaining walls and landscape steps that create functional areas on your property. We are committed to providing our clients value for money and offer customized retaining wall designs and superb step plans. The use of high-grade materials enhances the resilience of the features. Read More About Retaining Walls & Steps »


Pergolas
In addition to the standard elements that most landscapes have, many homeowners like to get outdoor structures installed on the property. These structures provide a certain amount of shade to various areas depending on where they are installed. Features such as patios, decks, etc. are open to the air, which means you can use them only at certain times of the day or during certain seasons. Installing a pergola in these areas is one of the best ways to improve usability at different times of the year. We can design and plan pergolas made of wood, aluminum, vinyl, composite, etc. Read More About Pergolas »


Outdoor Living
We are one of the most reputable landscaping companies in the area, recognized for our creative and high-quality constructions that are distinctive and impressive. As an experienced company, we go above and above to provide our customers with exceptional experiences. We achieve the ideal mix between dependability, outstanding quality, and cost, ensuring that you always obtain value while working with us. We can help you develop new outdoor living areas from scratch or add a few components to an existing backyard. To improve the aesthetic of your outdoor space, our company can assist you with selecting materials, layouts, plans and features, creating retaining walls, and placing pavers. Our comprehensive approach guarantees that the external areas of your home are functional, durable, and simple to maintain. Our team is skilled and proactive, and our on-site supervisors ensure the project progresses seamlessly. Our expertise encompasses all aspects of hardscape design, layout, and building, including installing various water and fire elements. Read More About Outdoor Living »


Outdoor Kitchens
An outdoor kitchen is a very functional element that enhances the value of your property. We provide high-quality outdoor kitchen design and installation services. Our team of experts plans everything starting from the countertop layout, storage, outdoor lighting, as well as seating and other requirements. Just as you want the outdoor kitchen to be attractive, you also want it to be practical resilient, and long-lasting. These are the aspects we keep in view while planning a patio kitchen for you. Every feature is customized to your needs; you can be sure that it will serve the desired purpose perfectly. Read More About Outdoor Kitchens »


Paver Cleaning & Sealing
Pavers are a common feature in most landscapes. They are used in patio, deck, walkways, driveways, poolscape installations. Since these services are exposed to the elements, they can become dirty, scratched, stained, or worn over time. One of the best ways to keep them well protected is to get them cleaned and sealed with regularity. We offer custom paver clean and seal solutions and ensure that these surfaces look attractive and are well-protected from exposure to the weather. We will pressure-clean the pavers, sand the joints if required, and sealcoat the surfaces. It's a good idea to get pavers sealcoated once every two years. Read More About Paver Cleaning & Sealing »


Water Feature Walls & Fire Pits
Fire and water features add drama to the outdoor spaces of your property, enabling you to use these areas even in colder weather. We are committed to providing our clients with high-quality solutions and take the time to design elements that fit in perfectly with your landscape aesthetic. Our team can design and plan various water walls and fire features. There are different types of water walls designs, and we make sure that you get ones that suit your landscape aesthetic. For fire pits, we use materials such as brick, natural stone, or concrete in this work. You will get stunning water walls and fire pits that add value and beauty to your property. Read More About Water Feature Walls & Fire Pits »

If you want any hardscaping installed in your residential landscape, we are here to help. For any more information about our services and hardscaping cost, feel free to contact Stone Deck at 512-863-0057. Our team is here to help with all your hardscaping needs and will make sure you get structures that will add to the beauty and value of your property. You can also send us your queries through this Contact Us form, and we will respond within the shortest possible time.